Introduced by the world renowned Danish breeder Poulsen, these stunning varieties have all the benefits of modern breeding alongside the delightful appearance of the romantic, traditional flower forms of times gone by. Below are some of the reasons why this astonishing range of plants undoubtedly deserve a place in our gardens.
Large, colourful old rose blooms with a high petal count.
A wide range of colours are available to suit all tastes.
Natural disease resistance of modern Tea Rose breeding.
Bushy, sturdy, glossy leaved plants
Delicious, decadent and old-fashioned fragrance
They produce single rose buds rather than clusters, making them perfect cut flowers.
Perfect for containers on the patio, as well as beds and borders with a height of 1.5m (5ft).
Combine beautifully with herbaceous perennials in a mixed border giving a wonderful, antique appearance.
Long flowering period from June to November, especially if spent blooms are removed.
An easy plant to care for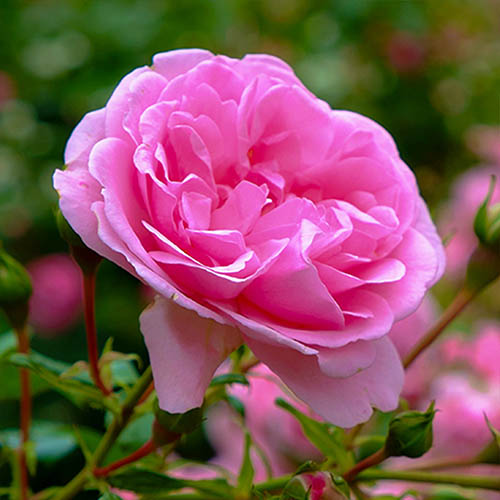 Renaissance Rose Ghita
Pictured at the top of the article are:-
Capricia – dark red blooms
Ghita – pink blooms
Marlis – light pink blooms
To view a collection of varieties at YouGarden click here
Mark Snelling
All images copyright YouGarden
If you have enjoyed reading our blog post then why not fill in the form provided to allow us to send you our blog posts and newsletters by email.