Here I would like to introduce you to some of the best Geraniums (strictly called Pelargoniums) that have been bred in recent years. They are a little bit special and differ from our traditional Zonal Geraniums. Below are some of the fantastic qualities I see in them:-
Delightful bicoloured blooms repeatedly throughout summer when deadheaded.
Deliciously fragrant serrated foliage that scents the surrounding air.
Although the fragrance is very pleasant for us, it is repellent to insects and mosquitoes. This can be a godsend when sitting out or dining on the patio. It is also a natural repellent which is harmless, and perhaps even beneficial, to the environment.
Easy to grow even for the beginner.
These bushy compact plants are not only suitable for our borders, they make an excellent choice for our containers and hanging baskets. It even makes a beautiful plant for the windowsill indoors.
They are a half-hardy perennial so can be overwintered in a frost-free greenhouse or windowsill, or propagated from cuttings for successive years.
The beautiful variety pictured at the top of the article is the gorgeous Lizzie Mosquitaway.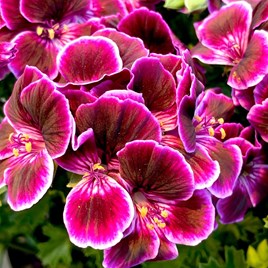 Pictured above is the new Geranium Megan Mosquitaway producing a beautiful two toned flower colour of deep luxurious maroon with a light pink outer edge.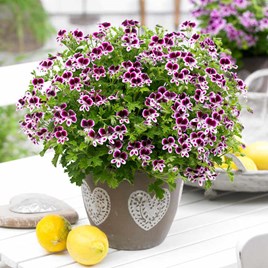 And finally pictured above is the stunning Geranium Eva Mosquitaway with its beautiful white blooms with a starkly contrasting dark splash.
To view garden-ready potted plants at Suttons click here
Mark Snelling
Images copyright Suttons
If you have enjoyed reading our blog post then why not fill in the form provided to allow us to send you our blog posts and newsletters by email.