I am very happy to introduce this scrumptious new breeding in gooseberries which is an excellent addition to the kitchen garden or allotment for the following reasons:-
Plump, rounded, juicy fruits with a delicious flavour.
Powdery mildew can be a destructive problem when growing gooseberries.  These varieties have displayed a remarkable resistance to powdery mildew.
With a height and spread of 120cm (48″) these plants are not only suited to the kitchen garden and allotment, they are equally suitable for patio containers.
Robust and reliable plants.
These smooth skinned varieties each have a unique flavour and can be eaten cooked or raw.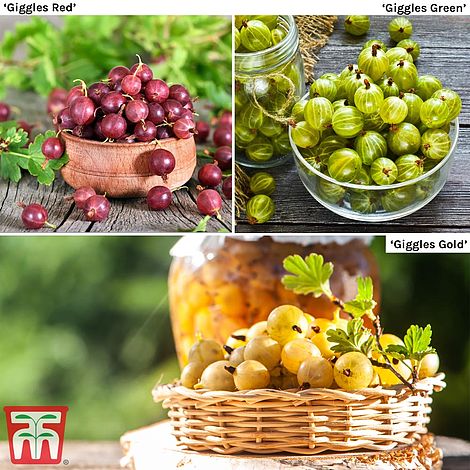 The three varieties available in the Gooseberry Giggles Series are:-
Gooseberry Giggles Green – Green fruits with a crisp and aromatic flavour.
Gooseberry Giggles Red – Smooth skinned, red fruits that have a juicy, berry flavour.
Gooseberry Giggles Gold – Golden fruits with a deliciously sweet flavour.
How to grow
Incorporate compost if planting in the ground, or use a John Innes No. 3 compost when planting in containers.  Give them an open, sunny site with good drainage. Remove any shoots or dormant buds from the base of the plant as these will produce unwanted suckers later on. Plant around 1.5m (5ft) apart at the same depth as they were planted in their pots. Keep well watered until established, especially in hot spells. Remove suckers. Net the bushes or place in a fruit cage to protect fruit from birds.
Some early berries can be harvested in May and frozen for later cooking.  Remaining fruit can be left to ripen fully on the bush for a June harvest to be eaten raw from the bush as a delightful treat.
Prune gooseberry plants in winter. Remove dead, damaged and crossing stems, before thinning the remaining stems to create an upright open bush. Shorten the remaining stems by half. If planted in the ground, a spring mulch can be beneficial.
To view these plants at Thompson & Morgan click here
Mark Snelling
Images copyright Thompson & Morgan
If you have enjoyed reading our blog post then why not fill in the form provided to allow us to send you our blog posts and newsletters by email.