Many of us are familiar with the fashionable globe shaped alliums that are planted in autumn as bulbs and bloom in spring and early summer.  However, in recent years a newly bred type of allium has begun to become available which is treated more as a herbaceous perennial.  Will this become the future of Alliums? Below I want to bring to your attention some of their features and benefits:-
Allium Millennium
Allium Millennium achieved the prestigious accolade of Perennial of the Year 2019.  It's delightful, globe shaped, nectar rich blooms are a magnet for butterflies and bees. They have a  height of 30-40cm (12-16″) and spread of 20-30cm (8-12″) .
Allium Lavender Bubbles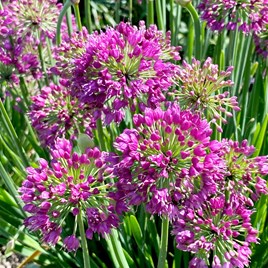 This brand new variety has darker purple, larger flowers than Millennium, with thin grey-green leaves that are slightly twisted.  They bloom from July-August with a height and spread of 40-50cm (16-20″). Pollinators are drawn to them like a honeypot.
Differences and benefits
A later flowering time than the traditional bulb type Alliums.
A longer flowering season.
Once established, a huge amount of flowers are produced from one plant.
Very easy to grow.
Unlike bulbous Alliums whose leaves can be messy, these Alliums are perfect in containers, as well as beds and borders in amongst other perennials.
Whilst I am not suggesting that we cease to grow the beautiful bulbous Alliums, these stunning new perennials are certainly a very valuable addition to to our gardens, whose differences allow them to be used in an alternative way.
To view Allium Millennium at Suttons click here
To view Allium Lavender Bubbles at Suttons click here
Mark Snelling
Images copyright Suttons
If you have enjoyed reading our blog post then why not fill in the form provided to allow us to send you our blog posts and newsletters by email.