I am delighted to introduce this stunning breeding by Thompson & Morgan which is currently exclusive to them.  It is not just another Petunia, it is a remarkable new form that changes colour daily throughout the season.  The blooms are constantly changing from yellow to orange and peach.
This fantastic new breeding is perfect for our summer hanging baskets and containers, with a height and spread of 45cm (18″), where it will trail over the sides creating an astonishing display that will flower and flower all season long. The fact that this wonderful breeding has Calibrachoa as one of it's parents means that little deadheading is necessary.  It also means a greater number of flowers per plant.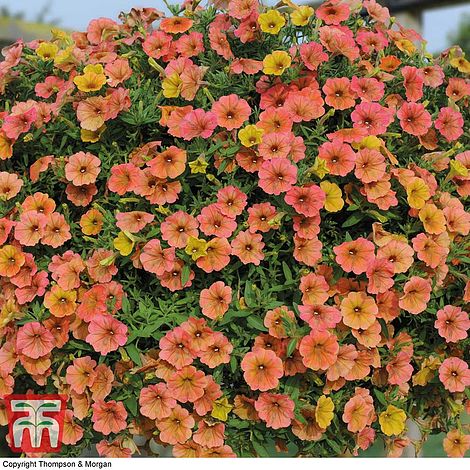 Petunia Peach Sundae has excellent qualities for weather tolerance.  Thompson & Morgan say that it " laughs in the face of wind, rain, hail and scorching sun". The strong flowers are said to "bounce back ever after the heaviest summer showers".
Begonia Apricot Shades have proved to be one of the best selling container plants on the market, and these Petunias have similar tones of  colour and are also equally good performers and probably one of the best new patio plants on the market.
To view these plants at Thompson & Morgan click here
Mark Snelling
Images copyright Thompson & Morgan
If you have enjoyed reading our blog post then why not fill in the form provided to allow us to send you our blog posts and newsletters by email.