Ensure you receive the cream of the crop and the best varieties, in the top sizes of bulbs to ensure good flowering, by ordering your bulbs now, in advance of others.  It is my pleasure to be able to showcase to you the latest breeding in daffodils that you can be growing in your garden.  Orders will be delivered from Dutch Grown this autumn and be flowering in your garden displays next spring.
Daffodil Xit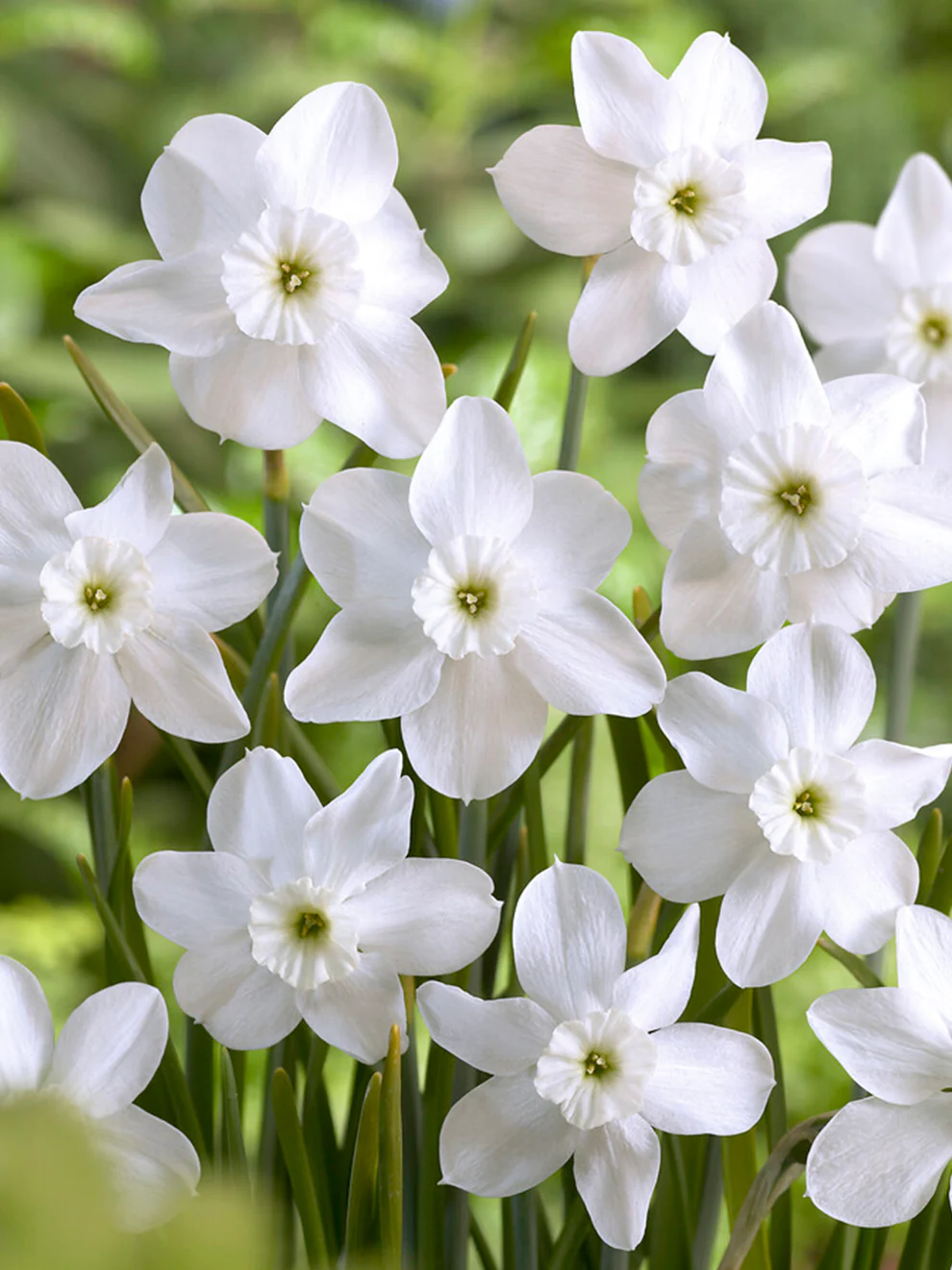 Mysteriously elusive yet alluringly captivating, Daffodil Xit is a flower of graceful beauty and unique origin. A rare species of the Narcissus genus, this delicate blossom has been the subject of much fascination in recent years; with its dazzling pure white petals, it is truly a sight to behold. Its delicate petals draw us in, beckoning us to marvel at its magnificence. From its delicate stem to the purity of its petals, Daffodil Xit is simply stunning.
Daffodil Zinzi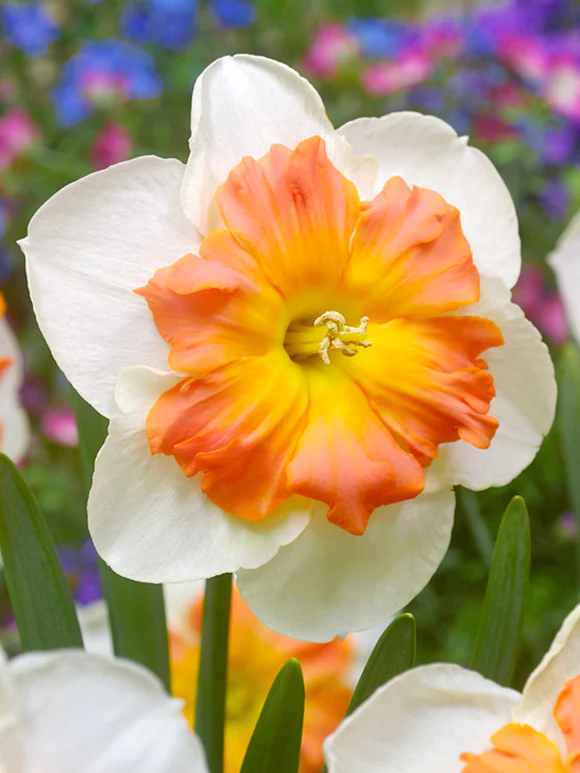 This new daffodil variety Zinzi has a snow-white perianth, which is the outer whorl of petals that surrounds the centre of the flower. The perianth frames a flat, irregularly split, golden-yellow corona that has pinkish-apricot edges, creating a bold and striking contrast. Narcissus Zinzi is sun proof and can withstand direct sunlight without fading. It's also deer- and rodent-resistant, which makes it an excellent choice for gardeners who struggle with these animals. Narcissus Zinzi belongs to the Split-Cup class of flowers, which are characterized by a corona that is split more than halfway down the length of the petals, forming a collar-like structure. This new variety of narcissus is sure to make an impact in any display bed with its high wow factor and unique colouration.
Daffodil Kapiti Peach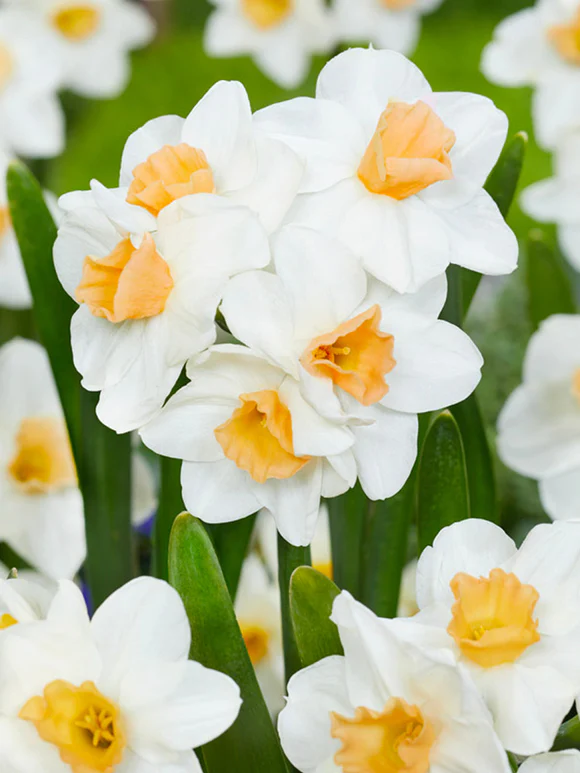 Daffodil Kapiti Peach boasts fragrant flowers with bright white petals and a lovely orange/yellow cup with peachy pink hues that flare out slightly at the end. A cheerful Tulip that will add a colourful display to the spring garden. Plant Kapiti Peach in beds and borders for wonderful spring blooms.
Daffodil Mallee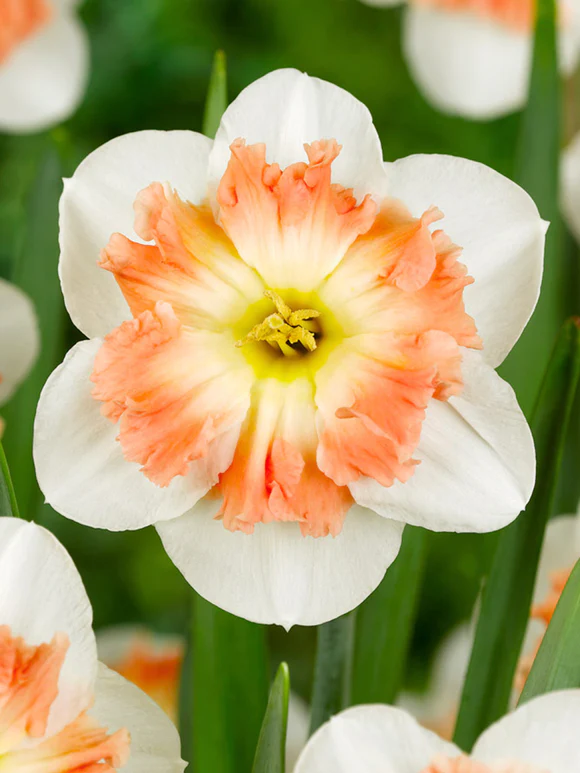 The Mallee Pink Daffodil, also known as the Butterfly Daffodil, is a beautiful and unique variety. Its wide face and ruffled pink centre make it a standout in any garden. Additionally, the blooms of this daffodil undergo a gradual colour change, starting out as a shimmering apricot colour with a yellow centre and then fading to a soft blush pink over time. One of the great things about the Mallee Pink Daffodil is that it is easy to grow and care for. This top-size bulb can be planted alongside other white daffodils or pink bulbs such as tulips and hyacinths for a stunning spring display. Additionally, this daffodil is not bothered by deer, making it a great choice for gardens in areas with deer populations. Another fun way to enjoy the Mallee Pink Daffodil is by forcing it in a pot for indoor display. With its striking colours and unique appearance, this daffodil is sure to add a pop of spring to any room. And, if you decide to cut some blooms for a vase, you can enjoy the beauty and fragrance of these lovely flowers in your home as well.
Daffodil Tom Pouce
Brand new Daffodil Tom Pouce has unique and captivating features, with pointed star-shaped yellow petals that have white bases and striations. The smooth, funnel-shaped pink cup of the flower has a rolled, wavy rim and a darker pink interior base, which adds to its beauty. Daffodil Tom Pouce belongs to the Large Cupped Narcissus class of flowers, which are known for their large cups that are about one-third the length of the petals. It's a stunning flower that is sure to impress anyone who sees it.
Daffodil Popeye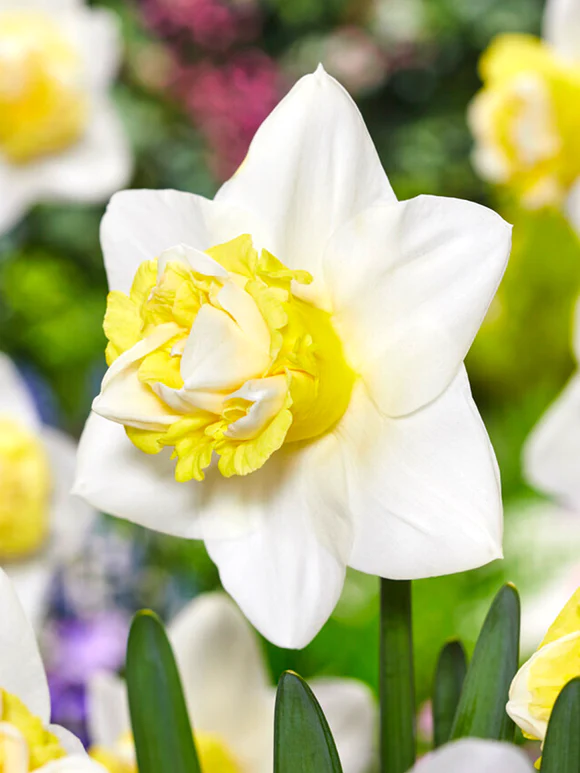 Daffodil Popeye is a popular variety of daffodil, also known by its scientific name, Narcissus 'Popeye'. This variety of daffodil is especially prized for its bright yellow and white double flowers and cheerful appearance. The foliage of these plants is also quite attractive. Popeye daffodils are quite popular as cut flowers, and they make an excellent addition to any garden, as they are easy to grow and care for. They prefer moist soil, and they need plenty of sun to thrive. The plants are also quite hardy and can tolerate cold temperatures, as well as occasional drought. These plants will also attract butterflies and other pollinators, making them great for gardeners who want to attract wildlife to their gardens.
Mark Snelling
All images copyright Dutch Grown
If you have enjoyed reading our blog post then why not fill in the form provided to allow us to send you our blog posts and newsletters by email. For all major gardening products, visit our shop from the menu above.