This astonishing new plant is from Thompson & Morgan's own breeding programme, one that is a world exclusive to them and one that I am excited to introduce to you for the following reasons:-
Geranium Tall Dark & Handsome Hot Pink has long stems which can be trained upwards on a trellis, fence or obelisk.  Many of us these days have small gardens which are often full to the brim.  These plants are a good opportunity to use the vertical space such as the perimeters of our plots.
The wonderful dark foliage contrasts beautifully with the hot pink blooms.
Tall narrow plants make an excellent focal point in your garden design adding structure and height to our displays.
These plants are suited not only to our borders, but also for containers with a height of 120cm (48″) and a spread of 60cm (24″).
If deadheaded these Geraniums will flower all summer long and even into the autumn and winter if moved in a container into a warm conservatory.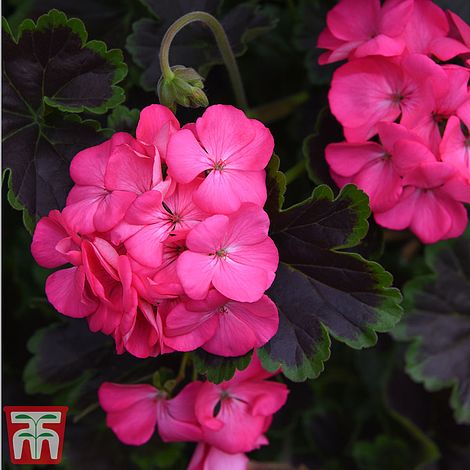 Keep geraniums indoors in a frost free place until all risk of frost is over.  Acclimatise the plants to outdoor conditions gradually.  Water, feed and deadhead your plants throughout the season.
To view these plants at Thompson & Morgan click here
Mark Snelling
All images copyright Thompson & Morgan
If you have enjoyed reading our blog post then why not fill in the form provided to allow us to send you our blog posts and newsletters by email.