I'm proud to introduce to you a world exclusive to Thompson and Morgan in 2021, straight from their own breeding by Charles Valin, the stunning Sweet Pea 'Three Times As Sweet'. This gorgeous plant is the very first modern Grandiflora tri-colour variety to be on the market, and one that you can be one of the first to grow.
Of course, as with most Sweet Pea varieties, the flowers exude the most divine scent.  The blooms also make perfect cut flowers which can be harvested again and again throughout the summer season. Imagine the gorgeous sight and scent, both in the garden and in the vase.
The marbled blooms are made up of not two but three colours.  A blend of lavender-blue, burgundy and white, unlike any other cultivated Sweet Pea I have ever come accross. This outstanding plant was bred from Lathyrus odoratus x Lathyrus belinensis cross and thus a Lathyrus x hammettii hybrid.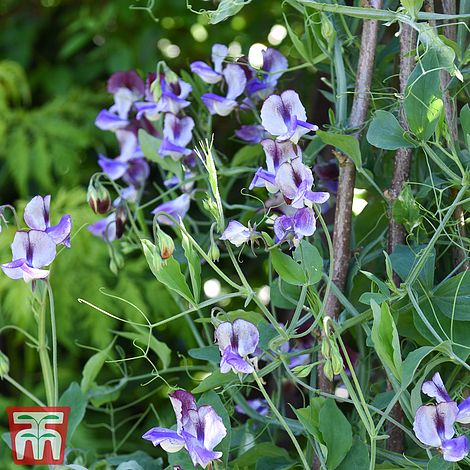 The plugs are multisown and will contain an average of five plants per plug. The plants will be supplied as deep-rooted plugs, pinched and ready to plant out.  Support them on a trellis or obelisk in a sunny position. Water and feed well throughout the growing season. For more information read our article on how to grow Sweet Peas.
To view these plants at Thompson & Morgan click here
Mark Snelling
Caution: Seeds are harmful if eaten.
All images copyright Thompson & Morgan
If you have enjoyed reading our blog post then why not fill in the form provided to allow us to send you our blog posts and newsletters by email.